3/8 mile dirt oval (1954-57)
4/10 mile paved oval (1957-present)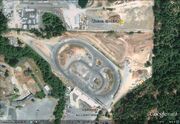 Current facility contains a 4/10 slightly banked oval, 1/5 oval, 1/8 drag strip, and can be configure for multiple 'road course' configurations. There is also a motocross track located on the same property (Westshore Moto X).
Classes run at Western:
-Stock Cars
-Late Models
-WILROC Sprints
-WILROC Lites
-Bombers
-Hit to Pass Cars(older full framed cars)
-Hit to Pass Trucks
-Hit to Pass Mini Figure 8's
-Hornets
-Old Timers
-Mini Stocks
-Big Rigs (once a year)
Andre Cottyn built Western Speedway in 1953.