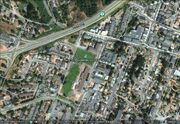 Langford BC
Status: Closed. No remains Exist.
Langford Speedway 1937-1941
Bruce Passmore's Langford Speedway 1946-1950
Langford Speedway was the first paved oval track in Canada. It was closed during the war years. It then closed for good in 1950 when the land was expropriated by the government to build (expand?) Ruth King Elementary school
Was located at Jacklin and Goldstream in Langford BC.